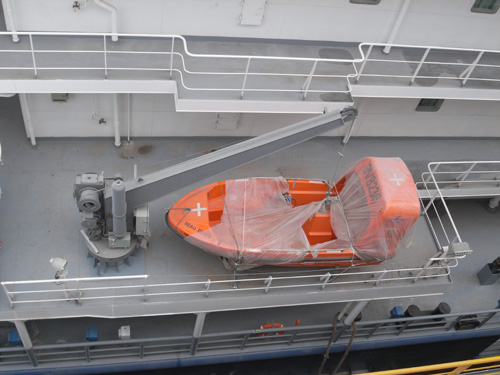 Single arm slewing boat/raft Davit& Crane Describe:
The single arm slewing boat/raft davit is maily used for lifting and lowing rescue boat, and also for lowering liferaft. Additionally, it is also acted as crane based on client's requirement.
The davit is manufactured and tested in compliance with the requirements of MSC.47(66)----1974 SOLAS Amendments and MSC.48(66) ---- International LSA.
The raft is lowered by means of remote control, that the crew can release and stop the hand brake of the winch from inside of the craft via wire connection to the brake arm and wire spool on the winch. Alternatively the crew can operate the hand brake on the deck.
The winch drives wire drums by means of motor through the reduction spur gears and equipped with centrifugal speed limiting device, manual lowering brake.